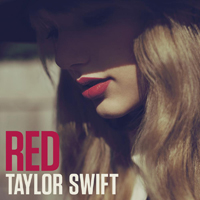 by Sunday Boling
Taylor Swift has been of legal drinking age for almost two years as I type this review, but that should not keep those of us who are older and potentially wiser from enjoying a nice glass of Catena Cabernet Sauvignon 2010 while listening to her latest release Red. A young romantic, Swift opens up the photo album of her love life's successes, failures and wishful memories through songs primarily self-penned. Why the title Red? Swift explains, "…when you experience love that's fast paced and out of control and mixes infatuation, jealousy, frustration, miscommunication, and all of those lovely emotions… In retrospect, it all looks red."
Mostly pop holding hands with country, a wink at R&B, a passing glance at folk and a flirtation with dance, this lengthy release still stays fairly consistent for a romantic evening or a night with the girls – without requiring a shuffle.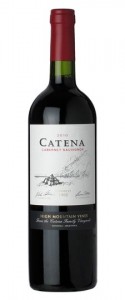 As we uncork our Argentinian Cabernet Sauvignon, "State of Grace" kicks us off with a strong rock rhythm on the drums. A wailing electric guitar introduces us to the melody before Swift's clear poetic vocals tell of an unexpected lovers' entrance that changed her forever. In the second verse, Swift almost raps; her singing transforms into a spoken word poem, words torn from the page of many girls' diaries.
We sip our dark violet colored wine that the Wine Advocate says, "has a Bordeaux-like bouquet of blackberry, bilberry, graphite and dry tobacco." The title song "Red" plays, the country guitar twang reminds a southern girl like me of home while the electronic background vocals keep the song party and dance friendly.
"Treacherous" takes us into the most obviously sexy part of the CD at least in lyrics. Swift sweetly sings "I'll do anything you say, if you say it with your hands." But quickly we forget, as we are club dancing to the song "I Knew You Were Trouble," the third promotional song from the album, which features Swift's attempt at dubstep. Does wine go with dubstep? I say yes…as I sip wine from my juice glass, breaking all the rules…my favorite tune "All Too Well plays next. Acoustic rhythm guitar begins the slightly sad song with breathy vocals and heart-wrenching lyrics of memories from a past love that refuse to burn into the past. Beginning with a definite nod to her country roots and spiraling into a rock guitar and passionate powerful vocals, Swift transforms lovers' emotions into relatable images.
We then are back dancing with "22," the Grammy nominated hit "We Are Never Ever Getting Back Together" and the bubble gum pop song "Stay, stay, stay" only to be interrupted by the pop country ballad "I Almost Do." "The Last Time," a duet between Swift and Gary Lightbody, lead singer of Irish/Scottish band Snow Patrol, requires a second glass of 2010 Catena Cabernet Sauvignon. Wine Advocate says, "There is a palpable sense of tension to this Cabernet" and I would dare say the album, too, creates a tension here. Lightbody's powerfully morose voice overtakes the song and takes us to a dark place. Sip the wine, don't gulp. Because "Holy Ground" will re-instate the party and your smile with an acoustic guitar and a pounding rhythm broken up by a sweet melodic chorus.
As the bottle empties, the album wines down with the ballad aptly named "Sad Beautiful Tragic," followed by a somewhat uninteresting "The Lucky One" and the folky "Everything has Changed" duet with Ed Sheeran. Sheeran's influence is very much felt on this song without the overpowering presence that Lightbody had earlier. Sheeran's and Swift's voices create an indie-movie-anthem, which could be sung around a campfire on Venice beach.
And because this album is long we are still listening and remembering our 92 point Catena Cabernet Sauvignon, which the Wine Advocate says is "full of personality." The album closes with "Starlight" and one final slightly twangy ballad "Begin Again." And while the song is about love renewed, I am ready to hit repeat on this fun and poetic mix of music, exploring the many personalities of love.