By Fayeruz Barbari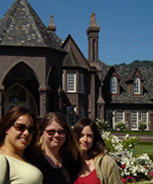 In order to properly experience Napa, you need a driver. No one's willing to man the wheel and smile along as their friends gush about deep cabernets and lively zinfandels. My girlfriends and I were in town to celebrate my upcoming wedding, and reminisce over college. No one was in the mood to fly 3,000 miles to be a designated driver.
We decided to call California Wine Tours. They offer everything from sedans and SUVs, to limos. Guy, (our driver), arrived in a crisp black suit and tie. The windows to our SUV were tinted, and the sleek interior had chilled bottles of water waiting for us. This is when I realized that everything in Napa strives to achieve this classy uptown sheen, even in the wake of its ruggedness. A rattlesnake slumbered beside a quaint stack of wine barrels. Remote grocery stores with dusty exteriors loaded up on wicker basket displays spilling with baguettes and sharp cheeses.
Our first winery was Beaulieu Vineyards, popularly known as BV. Walking in, you can cut right to the chase. The circular room had mini bars along its edges, and the friendliest staff in all of Napa stands waiting to serve you. The room is bathed in sunlight, and you are soothed by their accessible, non-pretentious quality. Of note, was their Georges de Latour Private Reserve Cabernet Sauvignon. While it's still made from their famous "Rutherford Dust" as their other samples, this wine exploded with the taste of cassis and cherries.
We then visited the grand Niebaum-Coppola winery, as in Francis Ford Coppola. We were blown away by the giant fountain that rivals the size of a neighborhood pool, the vine-woven trellis walkways, and the mansion itself. There were stone slab basements, a grand staircase lit by a stained glass window, and of course, the Coppola memorabilia museum. This museum wasn't made to pay homage to Francis Ford's movie career, but to the entire family. Old crumbling photos, timelines, and obscure published books by other family members lie inside the glass cases along with zoot suits from The Godfather. Their most treasured wine was their 1997 Diamond Series Blue Label Merlot. It was spicy, earthy, and had a hint of cloves. Very inventive.
As Guy eased us through the valley, we wanted to listen to music soothing and classy, like Napa itself. We decided on jazz. Diana Krall's Best Of album spun all day long. Her honey dipped voice was as smooth as the ride, causing two of us to doze off, (although the wine was partially at fault). We nudged them awake for one song, so that we could all sing along to her sleepy, sexy piano meanderings. It was, of course, the most pertinent song of all; Peel Me a Grape. We pointed, we crooned, and we hugged. And not once did we have to pull over!
Links:
BV Vineyards