by Eve Brosnahan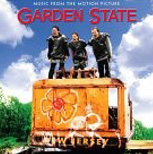 Zach Braff's phenomenal directorial debut can only be matched by this incredible assortment of unique songs on the "Garden State" soundtrack. This wonderful compilation consists of some of the most pensive songs which have me peering in to my past and future, as I am gently led from one melody to the next. Not an easy feat for a single album to effect!
The musician ensemble cast is both quirky and heartwarming. Coldplay's "Don't Panic" delivers a taste of mystical sanction while Zero 7's "In the Waiting Line" offers an existentialist perspective, both with soothing and hypnotizing melodies. I am moved by the music each and every time this soundtrack glides into the player. As I listen and look out at the Pacific, the contemplative songs stir distant emotions and compel hope for the future.
The wine to go with this thoughtful album is the Ravenswood 2002 Teldeschi Vineyard Zinfandel. This is a deep red wine with slightly porty aromas, infused with vanilla, pepper, and hints of smoke and coffee. It is a very broad, intense wine with huge fruit and sells for $25.00 to $29.00.
Garden State is a great album to wind down to, perfect for an end to your evening after a night out on the town. This soundtrack really captures the thought provoking essence of life. Plain and simply, one can expect to find both solace and bliss from this cool music mix.