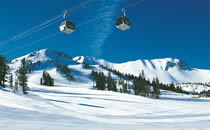 There is just something about the Eastern Sierra Mountains in California that calls out to your soul and demands your awe-abiding attention. For an unforgettable winter getaway, try the peaceful and serene settings of Mammoth Lakes California. And what better place or time is there to enjoy the 2001 Aubert Chardonnay with the music of George Winston but after an exhilarating day spent in the magnificent snow-covered nature of the mountains?
The megaliths of Mammoth have a music all of their own, heard in the wind as it makes its way around staggered mountain tops, down narrow, winding passes, through gnarled, wind-bent pine trees, and across golden, open meadows. Mountain wildlife adds to this natural chorus with the warbles of multiple species of birds, the lonely howl of the coyote, and the skittering of squirrels busily preparing for the coming winter. And let us not forget Man and all of his (or her!) various voices and songs to add to this living symphony.
Located approximately 300 miles north of Los Angeles, Mammoth Mountain is one of North America's premier ski areas with over 3,500 acres of skiable terrain including 150 runs serviced by 27 lifts. Mammoth is considered to be the number one Snowboard park in California. Although known for years for its extremely long ski season, Mammoth is a true year-round resort. Mammoth is the top mountain biking resort in North America, is surrounded by mountain lakes full of fish and fishermen, and offers nearly unlimited hiking and camping, all with the absolutely breathtaking views. Soon to be viable with an airport capable of servicing 80 passenger jets, it is within easy traveling distance of anyone seeking a truly exceptional mountain getaway. Founded by Dave McCoy in 1947, this fabulous mountain has recently been bought by two high end resort developers. While keeping the ambiance of the small town charm Intrawest and Starwood Hotels and Resorts have been developing a number of high-end real estate offerings in the area. The Village at Mammoth is the new centerpiece to this growing vacation haven and is a second home to many California celebrities and residents.
If you decide to stay in after your day on the slopes, we suggest bringing a bottle of 2001 Aubert Chardonnay to go with the mood of Mammoth. This chardonnay is a wine with sufficient complexity, clarity, and depth, and we entice you to pair it with George Winston's first album "December." The piano pieces are pure and enchanting and will resonate with your appreciation of mountain views and the superb, elegant wine. The Aubert's bouquet of flavors start with deep oak and toasted vanillas, rolling its way through your senses to tickle the back of your throat in a tease of more delicacies to come. I suggest several deep sniffs before taking your first taste. This wine hits your tongue like a mountain rainstorm, rolling peals of flavor echoing off of the roof of your mouth in imitation of nature's herald. At roughly $90.00 a bottle, the Aubert is complete enough to stand up to nature's songs. The Aubert, with all its sophisticated complexity is still balanced and pure and reminiscent of the clean Mountain air of Mammoth. Light the fire and put in George Winston's "December" to further enhance your mountain experience.
George Winston's piano pieces elegantly and effortlessly convey melodies that evoke beautiful and haunting images of the winter landscapes of Mother Nature. Clearly composed with a minimum of pianist gymnastics, the music of "December" continuously evolves in its melodies, with sufficient range and change of tempo, not unlike the winds of the mountain, coursing through the trees in their own melodic rhythm. Although the CD is named "December" its brisk, sophisticated feel works well throughout the whole winter season, and the occasional melodies reminiscent of the holidays are unique piano interpretations that deeply instill warmth in your spirit.
If you decide to go out after your day in the snow and possibly a relaxing Jacuzzi, the people in charge of your after-hours musical experience at Mammoth are actually aware of the mountain's amazing beauty and are taking the right steps to integrate the enjoyment of wine and music into the mountain experience. There has long been a multi-day Mammoth Jazz Festival in the summer and now there are several new establishments opening up to enhance your vacation enjoyment in the winter, as well.
In the Village, the Side Door Cafe at the Lincoln House features a wine bar and bistro with an intimate feel, beautiful hardwood décor and a sophisticated ambiance. For dinner LuLu's Restaurant at the Grand Sierra Lodge features French country cooking and a wine cellar the likes of which Mammoth has never seen including bottles ranging in price from $30 Р$3500! Lulu's is lively and has contemporary jazz music piped into the bar and restaurant areas. For a more intimate dining and wine experience try Petra's Cafe across from The Village at the Alpenhof Lodge. It offers an extremely well chosen mix of wines and elegant comfort foods perfect for winter cravings, ranging from Yankee Pot Roast to Penne Pasta with Smoked Duck Breast. Main course prices range from $25 to $50. The traditional jazz instrumentals that are piped through the restaurant and the large wood burning fireplace create a warm, sophisticated and comfortable mood.
There are various wines and musical choices that one can pair with Mammoth's concert of Nature, and one may definitely be influenced by the season in making a match for this endlessly variable playground of Mother Nature.Just remember, in the deep night or early dawn, when all is quiet and undisturbed in the mountains, do not forget the music of the silent prayer that you are beholden to in the beautiful mountain.
For more info visit mammothmountan.com
"Do nothing out of selfishness or out of vainglory; rather, humbly regard others as more important than yourselves, each looking out not for his own interests, but also for those of others."