By Pete Jordon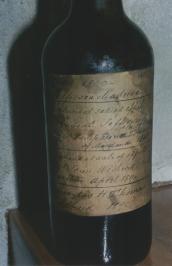 I was thinking of legendary wines the other day and entertaining thoughts of herbs, raisins, caramels, oily nuts, toffee and other tastes and scents of the season and how they all come together in a fine bottle of Madeira wine. This mood and the thoughts surrounding it could have come from watching a line of snow moving up the valley towards me, or it could have been the music in the background, Beethoven's no. 2 in F major Opus 50. Some have called it one of the most romantic pieces ever written with its inviting prologue and sweeping melodies. Each movement in turn seems a chapter in life. To all things there is a season, and the next few hours called for calm reflection on times, friends, adventures real and imagined from the past.
A glass of smoky Madeira would go well with a moment like this, I thought. A legendary piece of music accompanied by an epic wine, a steady glow from the fireplace warming a sleeping Irish Setter as flake by flake all creation is cocooned and put away for a spell.
Madeira built the Western Hemisphere. Read any account of the peopling of the Americas and you will find that sturdy, uncomplicated Madeira was almost always the wine consumed. It is the wine of choice in great fiction of the age as well. Try to imagine Lord Horatio Hornblower without a nightly glass of earthy Madeira?
It is a wine that owes its power to what many would consider rough handling. No months or years packed away in a cool, dark wine cellar to age quietly for this drink. It earned its place in the world as ballast in the holds of ships sailing the world over and crossing the sweltering equator as often as possible. From that forge a legend was made. Before the American Revolution, many of the founding fathers were engaged in smuggling it into the colonies. When the Declaration of Independence was signed, Madeira was the drink to toast it.
There are touchstones to that moment in history. In 1997, a bottle of Madeira from Thomas Jefferson's wine cellar, perhaps one that was almost selected to go to Philadelphia with him, was auctioned by Sotheby's, New York for around $22,000.
You can't put a price on a legend. All you can do is listen to the music as you sip your wine and allow its scent to fill your nose and soothe your soul.