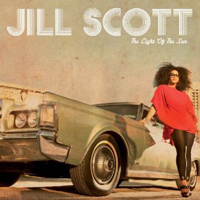 by Jonathan Mitchell
Jill Scott's newest release, her first in 4 years, "The Light of the Sun", is a big, smooth, and uplifting production, that makes you feel. It makes you feel good, makes you feel smart, makes you feel hopeful, and makes you want to dance!
From the first glance at the cover, where she's standing next to a classic Lincoln Mark IV, you know it's gonna be a bit retro. Scott clearly loves the 70's R&B, with it's funky grooves, real drums, and clean guitars, and that's just fine with this listener. She harkens to the Isley Brothers in "So in Love", featuring Anthony Hamilton, with an infectious bass line and incessant four-on-the-floor groove. It feels like the 70's but with a modern flair. Her love of the DC "Go Go" sound is evident on "Shame" featuring Eve, and the jazz influences on "Blessed", "All Cried Out", "Quick", "When I Wake Up" and "Rolling Hills" are refreshing and keep this record from being labeled cookie-cutter Hip-Hop.

Jill Scott is very real, and like the light of the sun, her songs reflect and reveal her inner feelings as she testifies how grateful she is (Blessed), how she pines to be heard by God in her prayers (Hear My Call), and how proud she is to just be HER (Womanifesto).
For those who love Soul, R&B, Jazz, and Hip-Hop with great lyrics, this record is an absolute must!
A perfect wine-pairing with "The Light of the Sun" is the Layer Cake Shiraz, from Australia, available in all fine wine shops as well as high-end grocers, for a mere $12.99!
Like "The Light of the Sun", this wine is smooth, complex, and compelling. It just makes you want more! Layer Cake is produced by the legendary Jayson Woodbridge, in the McLaren Vale region of South Australia, famous for it's complexity and density. Loads of ripe blackberry, black cherry and blueberry jam are redolent on the nose. On the palate, the fruit gives way to fresh herbs like sage and basil, as well as a trademark pepper, licorice and pipe tobacco. This is not a wine for the faint of heart.
It's ripe, rich, round, and will pair fantastically with grilled meats, pasta Bolognese, strong cheeses, and of course a big slice of Chocolate Layer Cake!
Grab a bottle, twist the cap (yes, of course it has a Stelvin enclosure), pour a big glass, and crank up Jill Scott's "The Light of the Sun".
You WILL be uplifted!