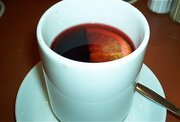 If you have an outdoor area, even a small patio, host an intimate gathering under the fall night sky and serve this Austrian concoction that will infuse your body and heart with the kind of warmth that can only be felt during this time of the year.
Ingredients per liter of red wine: any dry red wine, 8 cubes of white sugar, 1 orange (peeled and cut into cubes), 4 pieces of cloves, 1 stick of cinnamon.
"Gluehwein" is a winter wine drink that is served at the famous "Christmas Markets" in Austria and Germany. You can use just about any kind of darker, dry red wine, and it can be inexpensive because you will be adding spices and flavors. For every liter of wine, add 4 to 5 cubes of white sugar, one whole peeled orange, four pieces of cloves, and one stick of cinnamon. Cut the oranges into cubes and put everything in a pot, heat it up gradually and only boil for a few minutes. Let it simmer for a few minutes. Serve this warm, soothing drink in ceramic mugs. That is it, pretty simple!
You can create an inviting and cozy outdoor environment, reminiscent of the Christmas markets in Austria with some nice, soft lights, stringed around a balcony or criss-crossing over whatever outdoor area you may have, to create a romantic, warm ambiance. If you live in colder climates, heat lamps or an outdoor fireplace that is lit would be fabulous. Try serving hot apple cider with cinnamon sticks in addition to the gluehwein for guests that may not drink alcohol.