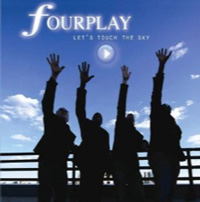 by Carol Duboc
And touch the sky they do! This latest release by Contemporary Jazz quartet, Fourplay, is probably one of my favorite contemporary Jazz albums. I put it on and want to play it again and again which rarely happens to me. For two decades, this group of legendary studio musicians has enjoyed consistent artistic and commercial success. In the course of a dozen recordings – six of which have climbed to the top of Billboard's Contemporary Jazz Album charts – the supergroup has continued to explore the limitless dimensions and permutations of jazz while at the same time appealing to a broad audience.
On "Let's Touch the Sky," there are songs written by each one of the members and I have a favorite song from each. The album opens with the title cut composed by keyboard legend Bob James. I love the harmonies and unexpected melodic twist in this opener. It is amazing how Bob James manages to evolve and get even more interesting after decades of recording as do the rest of these fine musicians. Next is the upbeat smooth jazz single, "3rd Degree," written by the newest member of the group, multi-faceted virtuoso guitarist, Chuck Loeb. I like the extended version of this song best because I love the musical conversation at the end. On his debut with Fourplay, Loeb adds a very commercial sensibility that helps lift the music even higher. "More Than a Dream" by Harvey Mason takes us on another journey as he weaves a melody that is quite unexpected. Another stand out and possibly my favorite is "A Night in Rio" written by Nathan East and Tom Keane. The melodies are simply beautiful. I love the vocal parts, and the way East weaves his bass under the light Latin rhythms. The album also includes guest performances by vocalists Anita Baker and Ruben Studdard on a few R & B classics.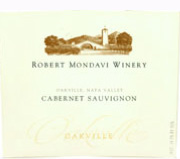 Pair "Let's touch the Sky" with Robert Mondavi Oakville District 2006 Cabernet Sauvignon from Napa Valley, California. The Wine Advocate gives it a 91 point rating and states that "The 2006 Cabernet Sauvignon Oakville reveals more licorice, spice, box, cedar, black cherries, and black currants in its complex, moderately intense aromatics. Full-bodied with outstanding concentration and moderate tannin, it displays the potential to improve for a decade, and last for 15-20 years thereafter." Both this wonderful Mondavi and the new release from Foreplay are rich and full enough to last for years to come.