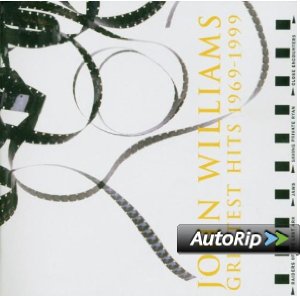 How do you pick a wine to stand up to the performance of the L.A. Philharmonic conducted by John Williams, one of America's premier composers, in a compendium of his accumulated works? What other modern day composer has touched the lives of so many people in so many ways? Williams is a master of the symphony in the likeness of Mozart and unmatched in creating auditory imagery for today's cinema greats.
John Williams has created the scores to such major motion picture hits as "Star Wars" (all 6 movies), "Close Encounters of the third Kind," "Jaws," "Raiders of the Lost Ark," "E.T. The Extraterrestrial," "Schindler's List," and "Saving Private Ryan." He picked themes from all of these great films to play on this beautiful cool September 2nd evening, at the Hollywood Bowl. Williams included a few works from some other famous contemporary film composers. Given this powerful line up to be presented by the master himself, I was faced with a real dilemma in choosing a wine to go with this magnificent performance.
I dug into my wine cellar and finally decided upon a 1984 Simi Sonoma County Cabernet Sauvignon. This wine had been with me for quite a while, as you might imagine. Surviving several moves, a divorce, heat, drought, riots, floods, fires, you name it. This wine had survived the test of time. I thought it might be able to stand up to another time tested master in Williams … I was not disappointed!
The maestro opened the concert with Liberty Fanfare, a 1986 composition in commemoration of the 100th anniversary of the Statue of Liberty. At this point the wine was breathing for the first time in nineteen years, so I let it enjoy the air. Several excerpts from "Close Encounters" followed, enhanced by the other-worldly design of the Hollywood Bowl itself and some very sophisticated lighting effects. At this point, the Cabernet was in the glass and on the tongue, and exploding in its own symphony of taste reminiscent of some older French Burgundy masterpieces. Age mellowed tannins, hints of violets, cedar, and blackcurrants mixed in a joyous celebration on the palate in concert with the strings, dancing in my ears. The smell of grapes on the vine enhanced the experience of Williams' use of the strings and French horns through such compositions as "War of the Worlds," Jerry Goldsmith's them from "Star Trek" the Motion Picture, David Raskin's "Laura" (with a stunning violin solo from Bing Wang), Elmer Bernstein's them from "The Magnificent Seven," and Miks Rsa's "Parade of the Charioteers" from "Ben Hur" (and yes, I was thinking of Italian vintages at that point). We'd finally made it to intermission!
After the break, Williams brought his best stuff with him, including the Cal State Fullerton University Singers, a full 85 person choir filling the back of the stage. And my 1984 Simi was up to task, becoming even more flavorful with the exposure to life-giving oxygen. We heard selections from "Far and Away" and "Amistad," both of which evoked images of the wide open skies and countryside of two very different parts of planet Earth. Bing Wang again treated us to a haunting violin solo for the theme to "Schindler's List" and the Cabernet was right there with her, its clean finish in harmony with her last, high note. Williams closed the concert with three pieces from the famed "Star Wars" films, building in the choir for the last piece from the first episode, "Duel of the Fates."
But like this venerable wine, Williams was not quite done. In response to the standing ovation from the totally enthusiastic crowd (which included a few light-saber wielders), he came out to play his very best. We were treated to the theme from "Raiders of the Lost Ark" (which had the crowd on its feet), the title theme from "Star Wars" (now they were cheering), and finally the theme from the greatest selling movie of all time: "E.T. The Extraterrestrial." The crowd, and the bottle, were spent. Master composer and masterful wine, encountered together in an evening to remember.
" "To Listen or Purchase Music Click Here" "http://www.amazon.com/gp/product/B000BJS4TO/sr=8-7/qid=1142361609/ref=pd_bbs_7/102-5850387-2063318?%5Fencoding=UTF8"