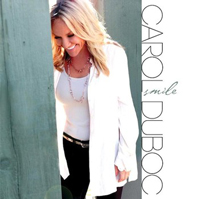 by Jonathan Mitchell
Great music, like great wine, is not easily produced. Some of the sweetest efforts are born of trial and tribulation. Especially when it comes to Love and Pinot Noir!
Enter the perfect wine and music pairing; Carol Duboc's preeminent release, the soulful and sultry "Smile", paired with Davis Bynum's Pinot Noir "Jane's Vineyard", 2011.
Both are elegant, yet complex.
Duboc's latest release, her sixth Gold Note Music recording, is a jazzy autobiographic journey, exploring love, romance, and the ups and downs of relationships. There is struggle, but ultimately hope, in spite of uncertainty. And in this struggle, love ultimately reigns.
Bynum's latest release celebrates 40 years of triumph over adversity making Pinot Noir. The famous winemaker Andre Tchelistcheff once said "God made Cabernet whereas the devil made Pinot Noir!" It has vexed many a winemaker in their day. It has the reputation of being the most difficult wine to make well. The grapes are delicate, and their thin skins are susceptible to rot and disease. They are sensitive to wind, cold, heat, pruning techniques, viruses, and a whole host of other conditions which are readily found in most vineyards and wineries. A winemaker who grows it well and makes a great wine is part magician! Neither Duboc nor Bynum are strangers to bringing in the best of the best to help produce their wares. "Smile" was co-produced and co-written by Grammy Award-winning composer and keyboardist Jeff Lorber, who has been at the vanguard of Modern Jazz since 1977 when he released the eponymous "The Jeff Lorber Fusion". His style has become synonymous with sophisticated smooth jazz ever since.
Bynum enlisted Greg Morthole to be his chief winemaker, with the world-renowned David Ramey consulting. Morthole came from Rodney Strong where he was the Reserve Program winemaker and Chalk Hill where he was enologist. Ramey is widely acknowledged as one of California's true wine pioneers and has consulted for Chalk Hill, Matanzas Creek, Dominus, and Rudd, among many others.
When you put on "Smile", you are in for an amazing musical journey.
Carol Duboc has assembled a veritable "who's who" of America's top musicians, including Jimmy Haslip, Vinnie Colaiuta, Hubert Laws, Luis Conte, and Grammy-award winner Brian Bromberg.
Together, they paint a musical landscape that opens with the New Orleans-influenced groove on "Elephant" and takes you right to the unforgettable title track "Smile", which you won't be able to stop humming.
Next, we're treated to the slinky, sexy blues of "Unpredictable" (think Donald Fagan and Diana Krall's love child), the head-boppin' 16th note funk of "Telepathy", and the hauntingly melodic "Atmosphere". The CD jumps right back up with the playful uptempo Samba-tinged "Parachute", and the gorgeous 6/8 ballad, "Behind a Kiss".
Rounding out the CD are the easy and breezy "Gliding", thoughtful and analytical "Nobody Knows", and smooth jazz classic "Mythological".
Enjoying a nice glass of the Davis Bynum Pinot Noir while listening to "Smile" is a fantastic experience indeed. Both the music and wine exhibit layers and layers. One of sound, one of tastes.
The Jane's Vineyard Pinot is ripe and delicious with a gorgeous nose of red raspberries, cherries, cranberries, and Earth, with nice mouth-coating tannins and an elegant long finish. Cool maritime conditions in the Russian River Valley allow for excellent ripening conditions, and the famed "Petaluma Gap" puts some nice fog in the Valley but keeps the grapes from being rattled by high winds which leads to much healthier and happier grapes. Jane's Vineyard is in the golden triangle of the Santa Rosa plain- known for not being too hot in the day and having good cool temperatures at night, giving the wine excellent acidity and ripeness. At 14.5% alcohol, it feels just right on your palate. The clones used by Morthole are classic French Burgundy, so the style is balanced and food-friendly.
This writer highly recommends you pop the cork on a bottle, pour your self a nice glass, crank up Carol Duboc's newest CD, and just smile!